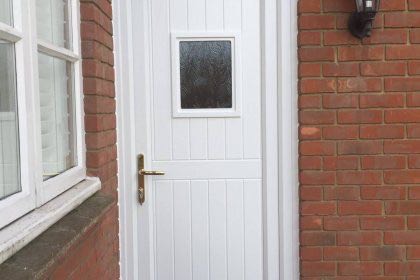 Replacement Entrance Door Cost
Recent technology has changed the way we look at replacement entrance doors, how we buy them and the way we buy them, in this article we ask the question "How much should your replacement entrance door cost".
Over recent times the entrance door has evolved, the introduction of technology has massively improved the performance of your entrance doors. Composite entrance doors have performed very well in the home improvement market to meet customer demands in terms of increased security, visual appearance and design along with energy saving.
In this article we will look at composite entrance doors, how they have replaced so many traditional full panel uPVC entrance doors and why they are the consumers first choice for a replacement entrance door.
But how much should your replacement entrance door cost?
It's all about the quality
Quality plays a huge part in determining the cost of a replacement composite entrance door, a standard composite door is typically 40mm to 44mm thick and a high performance composite door can be 59% thicker at 70mm. As with many other sectors, there are typically two pricing points in the entrance door market, one directed at the value market and a second direct towards the discerning and quality end of the market.
The value end offers a lower pricing point, with a lower quality, thinner door that can sometimes struggle to meet the latest home office recommendations regarding security and efficiency. Like in most markets you should expect to receive roughly what you pay for.

If you own a rental property you should not shy away from your health and safety or social, inclusion responsibilities in favor of lower cost as inevitably this can come back and haunt you as many landlords have found in recent cases involving landlords and fire doors. If You own a rental property you should ensure you know your responsibilities regarding fire doors, health and safety
At the opposite end of the spectrum there are a range of higher quality composite entrance doors, offering excellent levels of security, multi-point locking systems, A+ rated energy efficiency, noise reduction and beautiful design options and extended guarantee periods.
Let's assume you are in the market for a new or replacement entrance door
As a home owner, investing in your home you may have saved a little cash to make a few improvements that will make life easier for you and your family and provide a reasonable return on your investments, a replacement entrance door can increase the value and curb appeal of your home whilst being secured by design and energy efficient. Like many other home owners investing in their property, typically as a home owner you want the following items addressed in the decision making process, when deciding which entrance door best meets your needs.
Value for money
Security and safety
Peace of mind (warranty)
Durability – will it stand the test of time
Style / colour / hardware
So how much should your replacement entrance door cost?
There are typically 4 components that make up the price for your replacement composite door cost:
Equipment, door, frame hardware etc
Labour, installation, travel, training holidays, uniform, supervision etc
Materials, consumables, fixtures fittings
Overheads, showroom costs, sales, administration, finance, customer care, insurance, profit.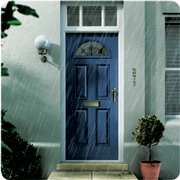 The costs 1 2 & 3 will be similar for each seller, (unless you are self installing in which case the labour cost may be lower)  the overheads are where the difference is made, and the choice from you is regarding value and peace of mind.
Installing Your Replacement Door, Yourself
Supply Only – Budget £600 to £1,000 to replace your composite entrance door
The lowest cost option, where good savings can be made in terms of installation, with the potential to limit the door warrantee.
Installing Your Replacement Door, One Man Band
One Man Band – Budget £800 to £1,400 to replace your composite entrance door
A lowest cost option, the challenge is with the one man band that they have limited sales tools,ie no showroom and they will often sell what they have not always what you want. One man bands often have lower overheads and you should validate insurance, qualifications and accreditations otherwise warrantee may be effected.
Installing Your Replacement Door Company with Staff and a Showroom
Budget £1,000 to £1,600
The highest price and peace of mind solution as a company with staff and a showroom will often spend more time and effort in the pre sales environment ensuring you get the item and quality you want. The overheads are much higher with a company with staff and a showroom who often have aftersales and quality control procedures along with insurance backed warrantee.
These prices are indicative and should not be used as a guarantee, I have seen value doors as low as £350 offered on auction sites and I have also seen high performance entrance doors and frames over £6,000 there is a huge difference between value doors and High performance doors. Geography and demographics also a part in the price you pay for a replacement composiot entrance door. For example if you live in London or the South East, increased labor costs, on street parking and road charges will often mean installed prices are higher.
If your home is ready for a fresh new look, call Regal Carrington Windows on 01332 208833 and speak to our team.
Replacement Entrance Door Cost
Use our online quoting engine to select the ideal Nottingham UPVc Front Door for your home. Receive a cost estimate in seconds.
Our friendly team are always happy to help; why not use our online enquiry form to get in touch or contact us on 01332 208 833.