Regal Carrington Windows create beautiful, bespoke orangeries for homes in Derby, Oakwood, Chaddesden and surrounding Derbyshire towns. An orangery can add extra living, entertaining and work space whilst also adding value to you home.
Our highly crafted orangeries are an excellent way of adding light and space to your home without compromising privacy. The foundations, framework and structure offer superior strength, made to withstand the hardest environmental conditions. Using high quality double glazing, our orangeries offer superb thermal efficiency which can save you money in the long-term. Enjoy a cosy and comfortable room that will stay at the perfect temperature.
A different take on the classic conservatory style, an orangery is a mainly brick built extension designed to blend seamlessly with your existing build. A typical orangery features floor to ceiling glass windows with a lantern style roof, although we give you freedom in the design. Orangeries can be used for a number of purposes, from a reception room to a bedroom or kitchen. Whatever you intend for your new orangery, you will benefit from much valued depth and space.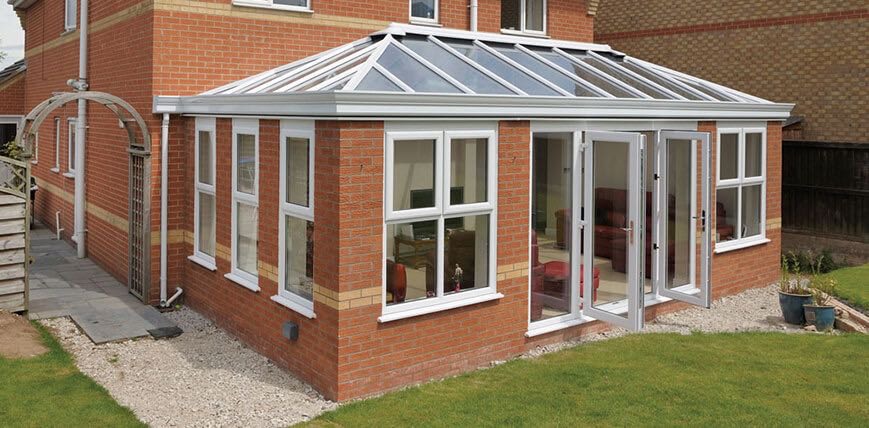 Features & Benefits
Conservatories aren't for everyone, especially for south facing properties where too much sunlight is an ever present issue. This is where orangeries can bring great value. An orangery will provide you with extra protection from the sun whilst still allowing you to benefit from plenty of light. Orangeries are thought of as luxury alternative to the standard conservatory, providing you with the very best of both a conservatory and brick extension.
The high-performance double glazing will retain heat in the colder months. This means your or energy won't suffer from cold temperatures. Additionally, the glazing will prevent an excess of heat in warmer months. The glass works by trapping a pocket of warm air in between the panes. This acts as a thermal barrier, ensuring the room stays the optimum temperature.
For weather resistance, our orangeries excel. The insulating, multi-chambered profile will keep the internal temperature at optimum. As well as this, the profile won't rot, crack, rot or distort over time. This will ensure you are making a worthwhile investment in our orangeries.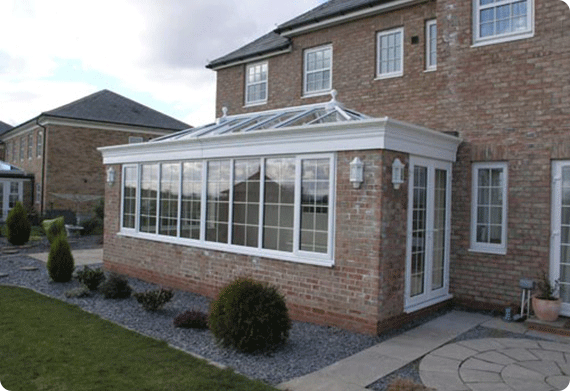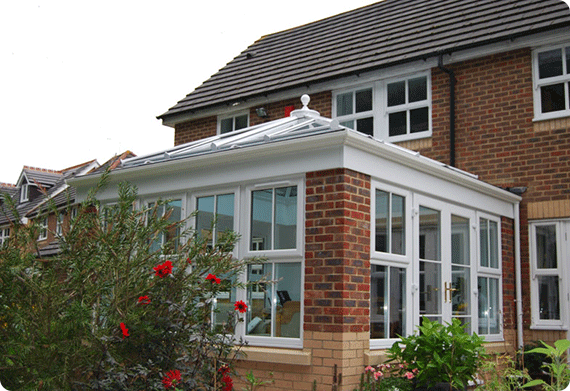 Private and Practical
A brick built structure, the orangery offers a private space with excellent insulating properties.
Designed to be a continuous extension of your home, an orangery provides you with a high level of sound insulation. Their acoustic properties are greater than that of a conservatory, making them a popular choice for home owners looking to secure more privacy.
Today's modern orangery allows you to benefit from the light and airy atmosphere of a conservatory whilst offering all the practicalities of a sunroom. Orangeries can be used all year round thanks to their practical capabilities. If you are looking for a highly efficient, versatile and stylish alternative to a conservatory then our beautiful orangeries could be exactly what you are looking for.
Orangery Prices Derby
Our stunning orangeries offer a wealth of practical benefits. Take advantage of a highly secure, durable, energy efficient build. Each profile is made to your exact specifications, made to measure to fit your space. You can choose from our colours, windows & doors and hardware accessories. Prices can vary based on your preferences.
Use our online quoting tool today to get a competitive price. Add your sizes and design options, and you'll quickly receive a no-obligation quote. This is free and easy to use and will give you a price in minutes. You are welcome to use this as many times as you like on our entire product range.
You can get in touch with our team today using our handy contact form. We will get back to you as soon as possible to answer any questions you may have. Give our office a call on 01332 208833 and our friendly team will answer your questions.