In this article Regal Carrington Windows discuss the triple glazing facts
While most of us have already heard about double glazing and upvc windows, only a few have so far come to know about triple glazing windows, in this article we will discuss the triple glazing facts. But the pressure is slowly mounting for homeowners and builders to switch to tripled-glazed windows. But does it make sense? And what is triple glazing?
Triple glazing is basically adding two other glass panes to one pane and inserting inert gas, (typically argon gas)  in to the space between the panes. The idea is that the multiple layers of glass are going to prevent heat loss and thus lower your gas bill during winter. Heat loss prevention can be achieved by double glazing windows but fans of triple-glazed windows insist that having three panes is better than two.
Opinions are actually divided. Experts, however, have weighed in and determined that for tripled glazed windows to really do magic, krypton must be used instead of argon as the filler gas. Also, the frame must be insulated as well. Without these two details, there isn't much difference in the amount of money you can save.
Quick Buyers tip – Always ask the supplier for the U Rating – the lower the rating the better performance of the triple glazing

How much do triple glazed windows cost?
Triple Glazing Guide & Costs. Triple glazing has the potential to reduce your energy bills whilst making your home or place of business warmer, safer and quieter. The average cost for a 2 bedroom home is around £2,500. In a Upvc frame, prices will vary substantively depending upon the frame materials. (UPVc and Aluminium Options as standard)
To install triple glazing in a 4 bedroom house with 15 windows you can expect to pay around £6,500 – 8,000. depending on frames and profiles.
Installing triple glazed windows is pretty much the standard in colder climates or noisier areas however, it has yet to catch on throughout the UK in a massive scale, although there are many homes that are being built and retro fitting triple glazing with it.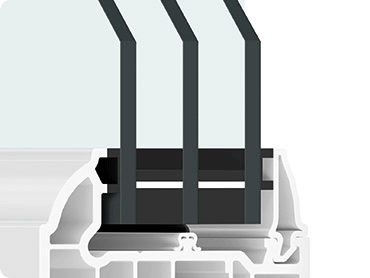 Should you use triple-glazed windows?
That really depends on whether or not you like to have an ultra quiet home and really energy-efficient windows. If you are expecting the windows to pay for themselves in the short term, you are bound to be disappointed because the saving accumulates over a matter of years. However if you are thinking of replacing your windows then the cost of triple glazing is comparable with the cost of double glazed units
Still, if you want to triple glaze your windows, there is no reason why you shouldn't. Just make sure to have yours done by a professional. Just search for "triple glaze windows" plus the name of your local area in Google's search bar.
Compare the quotes of at least three installers. As we said earlier unless if the frame of the windows are insulated as well and the gas inserted in the cavity is krypton instead of argon, there won't be much difference in the way of energy savings. There might be a world of difference in terms of sound reduction but that's not something we are betting on.
What if you already have double glazed windows?
Can you turn them into triple glazed ones? There are companies out there that do that kind of job. Again, make sure to search for at least three that do before you decide on who to hire. We are not sure about the costs but we can tell you that it is still going to cost you money, even though it's not as much as new windows.
In conclusion, triple glazed windows still remain a fancy prospect for many homeowners, so you might want to really think about it first.
About Regal Carrington Windows, Derby: We have a wealth of experience in installing triple glazing throughout Derby and Derbyshire and beyond, we are considered the local triple glazing experts for quality window and glazing technology and we're more than happy to answer your questions.
Call us on 01332 208833 or contact us to book a windows survey or to discuss your requirements.
Lets be social – Join Regal Carrington Windows on social media for the latest deals, offers and advice