We supply and install a wide range of Modern, stylish uPVC Conservatories in Derby, Leicester, Nottingham, Stoke-On-Trent, Uttoxeter, Staffordshire and Cheshire. Extend your property with one of our stunning uPVC conservatories.
We have a beautiful range of uPVC conservatory designs for you to choose from so no matter what your preferred style is, you are sure to find the ideal conservatory to complement your home.
Installing a conservatory can really make a difference. A much sought after home improvement, a conservatory can add lots of value to your property. At Regal Carrington, we are here to guide you through the whole process, from the initial quote to installation. We will help you achieve the perfect addition for your home.
We work with the highest level of professionalism, providing superb customer service to rival our competitors. Our bespoke conservatories can differ in price based on personal design and choices. To get an instant price, use our handy quoting tool on our website. Just choose your preferred design and specifications, and we'll give you a non-obligatory quote.

Which uPVC Conservatory?
Making sure you choose the perfect conservatory style for your home is what our conservatory experts do best. You will need to consider a few factors such as how you plan to use your conservatory and how it will serve your lifestyle. You might be after a family conservatory for example, a space where friends and family can gather. Or perhaps you are after a space for solitude?
Whatever your desired intentions, our uPVC conservatory styles serve a multitude of purposes. Our conservatory specialists are at hand to help you design the ideal conservatory for both your home and lifestyle.
Conservatory Styles
Conservatories can be put into two broad categories: modern and traditional styles. When choosing your conservatory, the first step is knowing which style is best suited to your home and whether it will fit your purposes. Both modern and traditional styles offer multiple benefits and with today's modern technology, both offer superior efficiency.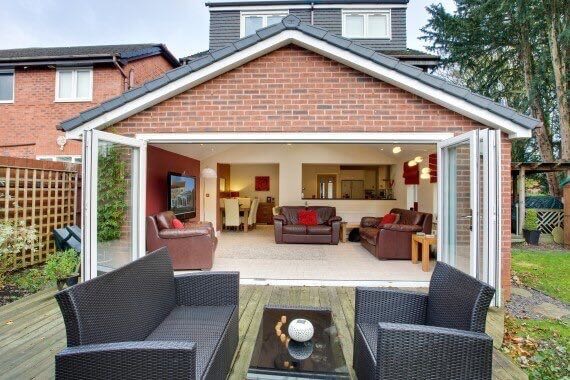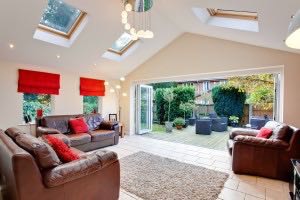 Modern Conservatories
Contemporary designs will usually be paired with modern properties however, this isn't the rule. For example, a modern conservatory can provide a touch of flair to the more traditional home.
Sometimes creating a spectacular contrast, a modern conservatory could offer the stylish and contemporary touch your period property is desperately in need of.
Traditional Conservatories
Traditional conservatory styles can complement period properties beautifully. A classic and timeless conservatory will certainly increase your property's natural charm. Just like the modern conservatory however, a traditional conservatory also has its place within a modern home. A traditional conservatory can bring more character to a contemporary property, providing a touch of grandeur.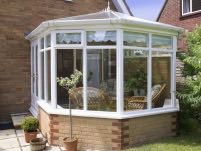 Victorian
These traditional conservatories are a very attractive choice for your home. They can be extended to a wide range of properties, complementing homes from the Victorian era in particular. This style is multi-faceted, similar to that of an octagonal shape. It incorporates elaborate cresting and finials which add a lavish and glamorous touch.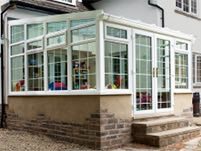 Lean-To
The most popular and cost-effective conservatory design, the lean-to conservatory is practical, versatile and more often than not, in budget. Perfect for those lacking in space, the lean-to is a highly adaptable design which can be applied to bungalows, terraced houses or any property which has low eaves. This wonderfully understated modern conservatory offers a clean, contemporary look.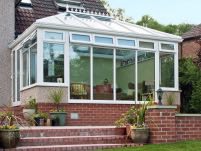 Edwardian
The Edwardian conservatory is square or rectangular in shape, generating more floor space than that of its Victorian counterpart. This spacious interior proves to be particularly attractive to customers looking to make the most of their added space. The Edwardian is perfect for the inclusion of plants, ornaments and furniture.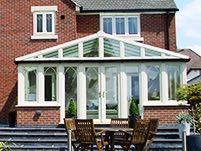 Gable-Ended
The gable conservatory is another traditional style famed for its elegance and grandeur. This design features a high angled roof which amplifies light and space, giving you a warm and welcoming atmosphere. This impressive build can also incorporate glazing details to the roof, with an image of a rising-sun being a popular addition.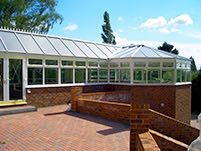 Bespoke
Conservatories can be built in many different shapes and sizes. As a result, we can specifically design and install beautiful and unique custom conservatories to suit your home and exact requirements. In most cases we will provide Computer Aided Designs (CAD) to build the perfect conservatory for you and your home.
Conservatory Prices Derby
Enhance your living space in Derby with our fantastic conservatories. Our selection of roofs, colours, finishes, and hardware can perfectly match your existing décor. Whether you live in a traditional or modern-style home, we can cater to your aesthetic and design choices.
As our conservatories are made to measure, prices can vary for our Derby customers. We work to your budget and space, offering advice on how best to utilise your outdoor area. Throughout the entire process our team are professional, efficient and friendly.
Start your free online quote today. Just use our handy online tool, and we'll give you a price in minutes. This is no-ogligtion, and will let you design you next home improvement until your happy with the finished look. You can use our quoting engine on our entire range of home improvement products!
Alternatively, you can speak to our team directly on 01332 208833. You can also fill in our free online contact form, and one of our experts will get back to you. We will talk you through our entire process, and are happy to discuss how we can improve your Derby home.