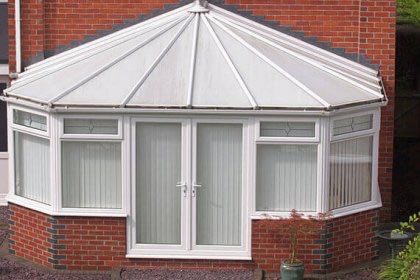 uPVC French Doors are a wonderful way to create space and light in your Nottingham home. Imagine walking through your new open-plan living/dining room, which you can separate using uPVC French Doors if you wish to have privacy. We provide the best, most beautifully designed French Doors in the Nottingham area, and we're excited to liaise with you to find your perfect French Doors.
Open up your Nottingham Home with uPVC French Doors
Do you want to add sophistication and light to your home? Try separating two internal rooms using our uPVC French doors, or perhaps use them to connect your living room to an outside area. The possibilities are never-ending with our extensive range of uPVC French Doors.
­­­­­­­­­By opening up your home, you're making it easily accessible, so if you want your home to be both family and wheelchair-chair friendly, our uPVC French doors are a perfect option for you.
uPVC French Doors offer Excellent Protection for Your Family
Our stunning French doors are supplied with the superior multipoint locking system, with high security shootbolts supplied as standard.
We also offer a range of locking upgrades, as here at Regal Carrington Windows we believe the sky is the limit when it comes to safety for your family.
Our Duraflex uPVC French Doors are proudly Kitemark certified, meaning they pass extensive requirements that identify excellence in rigorous safety and security tests. You can put your mind at ease when choosing a uPVC French door with us, as we ensure our products uphold the most thorough standards in safety and security testing.
Choose from Cost-Effective uPVC French Doors for your Nottingham Home
No more pulling at those purse strings this winter – our premium double action gaskets prevent loss of heat with an optimum seal so you'll only have to turn on the heating when necessary.
With a generous 10 year guarantee from Duraflex, your new uPVC French doors will be protected against any unlikely damage that may occur, such as cracking or discolouration. We want you to feel at ease when buying from us, which is why we promote insurance which we hope will put your mind at rest.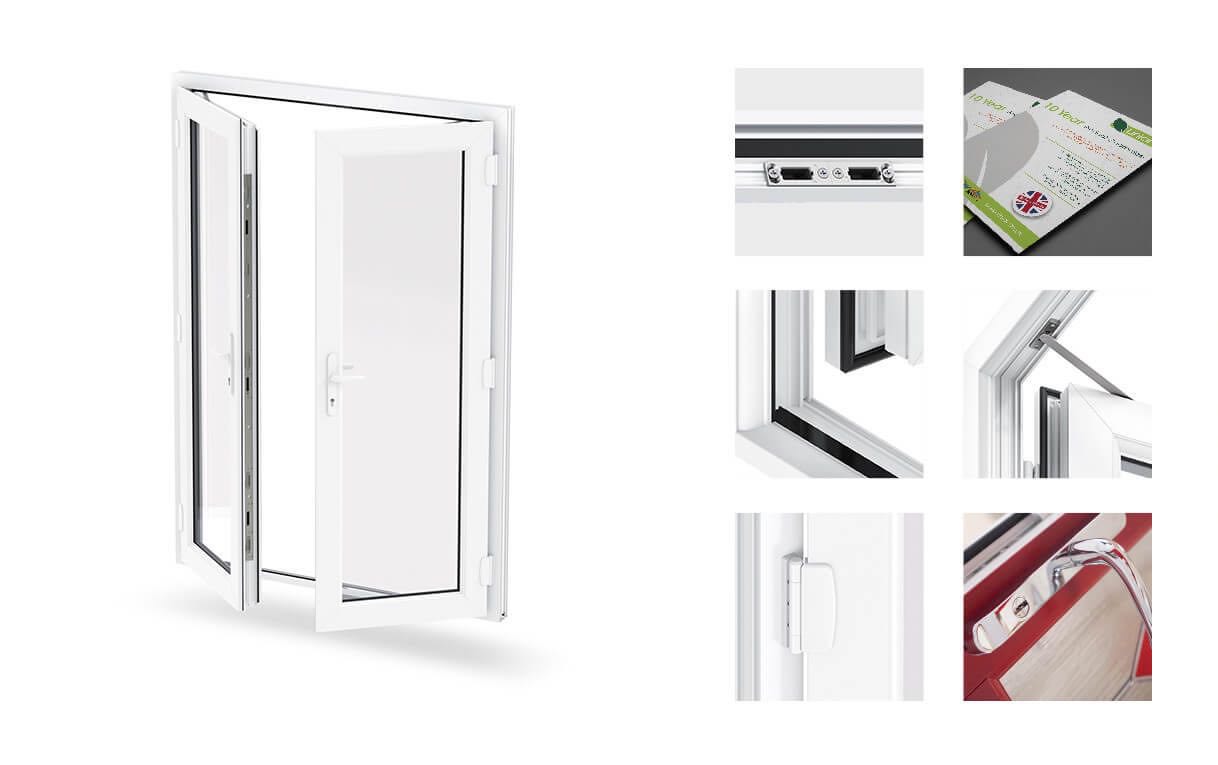 Our uPVC French Doors Come in a Range of Colours and Styles
Choose from a range of colours and styles, so that your new uPVC French doors will complement your Nottingham home perfectly.
With our extensive collection of RENOLIT foils, you can choose exactly how you wish your uPVC French doors to look, so that they align with the rest of your Nottingham home. These foils have both functional and decorative benefits, as they will not discolour or need maintaining with paint or varnish, and are also a beautiful touch to a uPVC French door.
Go Green with our uPVC French Doors
With our 100% lead free uPVC French Doors, you can be rest assured that you're doing your bit for the environment. They are fully recyclable, but what's more is that they are capable of WER A+12 energy ratings, keeping your carbon footprint as low as possible.
Not only is keeping in warmth cost-effective, but it also is better for the environment. Our uPVC French doors are designed with the environment in mind, as it is an important cause we mustn't forget.
Our uPVC French doors are fully certified by The Energy Saving Trust, an organisation that works towards energy efficiency where ever possible, a group that we are very proud to be linked to. We are passionate about reducing our carbon footprint, and know that many of our customers are too. Join us in our journey towards eco-efficiency and enjoy a uPVC French door for your Nottingham home today.
Door Restrictors and Premium Hinges for uPVC French Doors
To prevent damage to your new uPVC French door, we can install an optional restriction mechanism, which will prevent the door from being opened further than a certain angle. This prevents damage to the hinges, giving you a longer lasting uPVC French door.
We want you to have a say in every part of your new uPVC French door for your Nottingham home, which is why we even give you an extensive range of hinges to choose from. The hinges are from a premium range of Italian 'Dynamic 2D' hinges, and offer excellent strength, longevity and a visually appealing slimline design.
Can't wait to get your hands on one of our uPVC French doors? Get an instant online quote today or contact us. We're always happy to help.