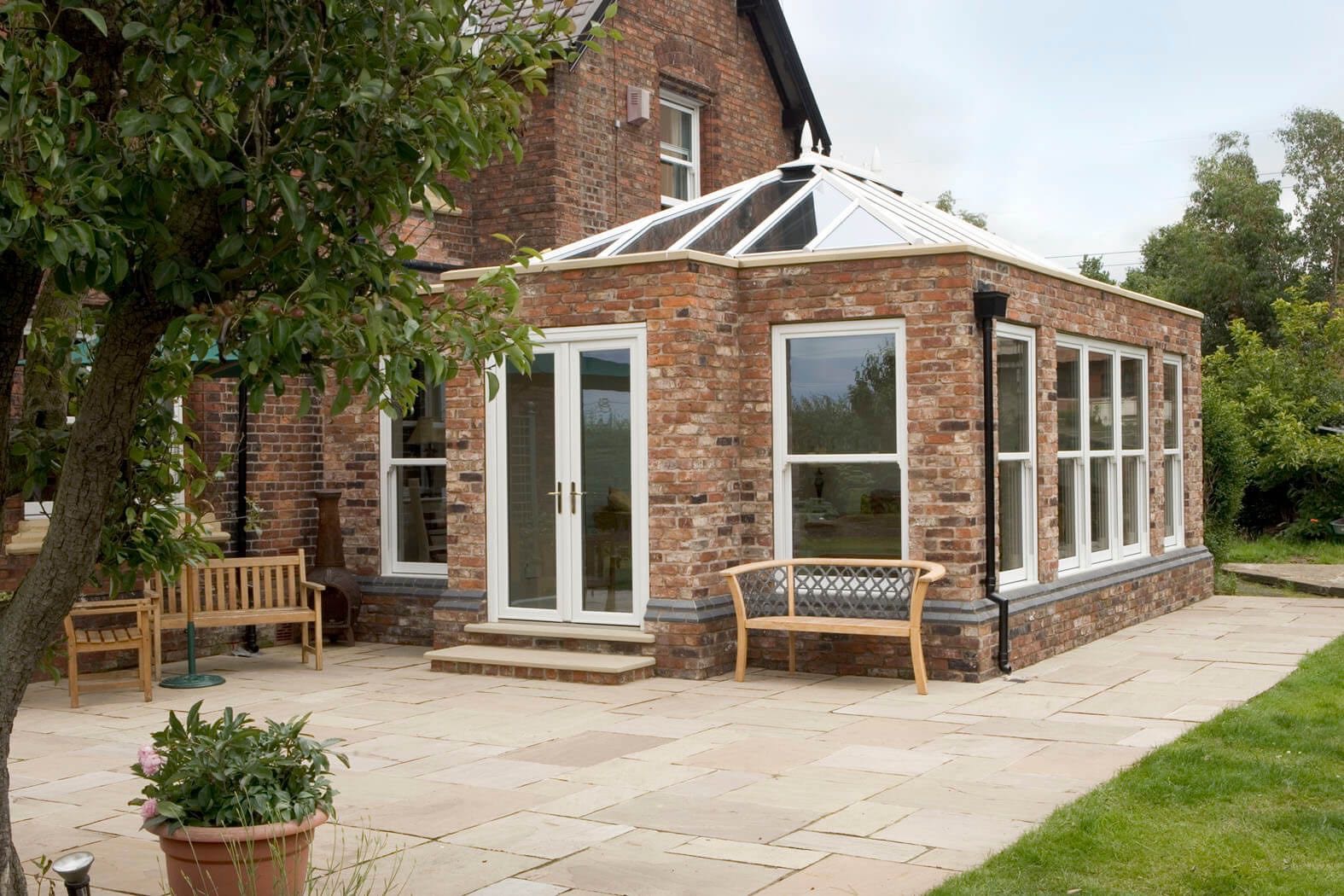 Quality Conservatories Derby
A huge range of Conservatories to choose from in Derby
The conservatory market has moved forward in leaps and bounds over recent years. No longer will your garden room be red hot in the summer and freezing cold through even the mildest of winters. Conservatories Derby no longer need to have the rain pounding upon the roof and sounding like a heavy hail storm for the lightest of showers.
Conservatory Technology has changed the way we build conservatories, modern customers are demanding modern designs, better insulation, quieter space, higher levels of security, lower running costs and an improved look and feel.
Carrington Windows offer these features and many more fantastic options that can be included at very competitive prices and I'm sure you can appreciate the appeal of a Carrington Windows Conservatory.
The internal look of your conservatory has also changed considerably with the introduction of lightweight tiled roofs, insulated roof voids, plastered ceilings, and internal plastered soffit system, all of this allows a huge selection of choice and a very modern look and feel to the conservatory.
Modern conservatory technology can added your existing conservatory design. This helps make your modern day conservatory an all year round addition to your home.
Transform your existing conservatory
Whether it be a replacement conservatory roof or a redesign and insulation for your existing Conservatory, Carrington Windows has access to a huge selection of options to help you transform your existing conservatory, whoever it was built by.
Our highly trained surveyors will carry out a full, no obligation, assessment, and advise you of the various options that may be available, such as:
• Replacing the roof members and the polycarbonate with a highly insulated roof with energy efficient, roofing options
• Completely changing the roof design to provide a spectacular lantern roof lights
• Upgrading the windows and doors, to introduce energy efficient panels, utilising the existing base
• Supply and fit roof vents either manually or electronically controlled with automatic rain and temperature sensors
• Introduce down lights, heating and cooling solutions to ensure the conservatory changes with your living arrangements.
• The options are endless at a fraction of the cost of a new conservatory
Transformation with LivinRoof
Very simply and cost effectively you can easily upgrade your conservatory roof to a solid roof system by engaging Carrington Windows in exactly the same way as we build new conservatories we'll talk to you about how you use your space, or indeed, how you'd like to use your space and we'll recommend the best roof solution for your needs.
Our most popular roof upgrade system is called LivinRoof. It's perfect if you'd like to enjoy a beautiful vaulted ceiling from the inside but still maximise lots of natural daylight with the integration of glazed panels to in any configuration. One of the key features of LivinRoof is advanced thermal performance which means you can truly use your conservatory all year round. And unlike your existing conservatory roof the vaulted ceiling will allow you to create a 'real room' feel with the addition of beautiful lighting to suit your needs – from ambient downlighters to stunning chandeliers.
Conservatories Nottingham
Conservatories Leicester
Conservatories Sheffield
Conservatories Solihull
Conservatories Stoke on Trent
Customer Testimonials